"Ynamides: Powerful and Versatile Reagents for Chemical Synthesis"
Evano, G.; Theunissen, C.; Lecomte, M. Aldrichimica Acta 2015, 48, 59-70. For our Technology Spotlight on Ynamides, click here.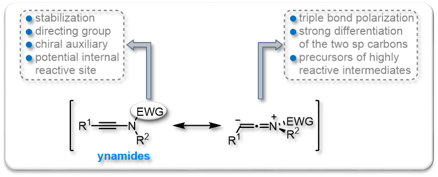 "Stereodivergent Hydrogermylations of α-Trifluoromethylated Alkynes and Their Applications in Cross-Coupling Reactions"
Schweizer, S.; Tresse, C.; Bisseret, P.; Lalevée, J.; Evano, G.; Blanchard, N. Org. Lett. 2015, 17, 1794-1797. Highlighted in Synfacts (2015, 11, 639).


"Chemo- and Stereoselective Synthesis of Fluorinated Enamides from Ynamides in HF/pyridine: Second-Generation Approach to Potent Ureas Bioisosters"
Metayer, B.; Compain, G.; Jouvin, K.; Martin-Mingot, A.; Bachmann, C.; Marrot, J.; Evano, G.; Thibaudeau, S. J. Org. Chem. 2015, 80, 3397-3410. With cover picture.